REV. BEN SHAEFFER
UMC Pastor and Elder
Ben was a 1979 Graduate BGSU with B.S. in Business Administration, and a Master of Organizational Development in 1997. God called Ben to be a local pastor while working for AT&T as a Sales Manager. Ben is a retired from AT&T in 2010 after 25 years of service and was a bio-vocational pastor for 6 years before going into full-time ministry.
He graduated with a Master of Divinity from Methodist Theological School of Ohio in 2015. He was ordained an Elder in the West Ohio Conference in 2017. He served as a Senior Pastor at Bellefontaine First UMC from 2017 to 2020. Ben retired from full-time ministry in July of 2020 and is now part-time pastor at Bethesda UMC in Asheville, NC. Ben is Past President of the West Ohio Conference United Methodist Men and a Certified Lead Like Jesus Facilitator. "I would like to promote the process of one-on-one and small group discipleship systems while living and leading like Jesus." Ben has been married for over 36 years to his wife Kayce, and has two adult children. He loves to play tennis, golf, travel, and take walks in beautiful places with Kayce. His contact information is two children.
Grace and Peace,
Ben
Email: rbshaeff@yahoo.com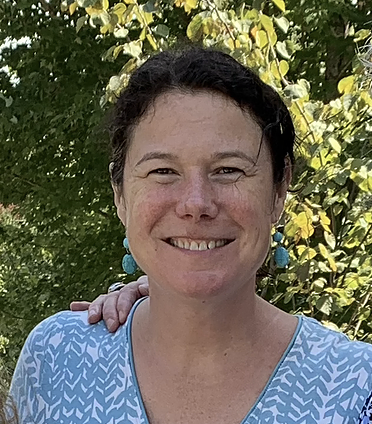 REV. AMY LEACHMAN
UMC Pastor and Deacon
Hello! I am Amy Leachman and I am the Minster of Children and Families. I am ordained as a deacon in the United Methodist Church and have been serving as a minister in Asheville since 2013. My partner Jack and I have three kids- Matt, Gracie, and Woody. We also have a golden retriever- Pawley.
I am passionate about children and families. Our Children and Family Ministry is designed to support the entire family. I believe one of the most crucial jobs of our church is to educate and equip our children and youth for their life long journey of faith. Our children and youth need a strong and firm foundation of faith so they can be prepared for when they step out on their own.
Please let me know if you have any questions about our Children and Family Ministry. You can call or text me on my cell phone at (828) 772-0035 or email me at revamyleachman@gmail.com.
​Amy
Cell: 828.772.0035
Email: revamyleachman@gmail.com